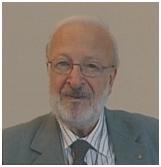 Eng. Maurizio LEGGERI
Eng. Maurizio Leggeri graduated in 1957 in Civil Engineering, at the University of Bari, and later he specialized in:
Steel construction – University of Naples, 1936;
Geotechnics and Foundations – University of Basilicata, 1983;
Recent Advances in Earthquake resistant design – University of California – Berkeley, 1987;
Seismic Analysis, Design and Retrofitting of Bridges – University of California – Berkeley, 1990;
Dynamic of Structures and Structure – Foundation – Soil – Systems (University of Missouri-Rolla), 1991.
He was the President of the Centre of Integrated Geomorphology for the Mediterranean Area from 1988 to 2012.
Eng. Maurizio Leggeri is dealing with seismic issues since the beginning of his career, earning a positive outcome at national and international level.
In cooperation with the National Institute of Geophysics, he designed the seismographic network of Basilicata Region.
He carried out a notable didactic work both at regional level at the University of Studies of Basilicata, and at international level, in particular at the Faculty of Engineering and Architecture of the University of Berkeley, California.
From 1983 to 1997, he was President of the Company EDIPASS S.p.a., an IT Company of Olivetti Group; and from 1988 to 1995, he was President of the Company EDIPASS Engineering S.p.a., IT Company of Olivetti Group.
From 1994 to 1995, he was President of the Provincial Committee of Civil Protection as well as, from January 1994 to May 1995, external Council Member of the Potenza Province, with power of attorney to City Planning, Territory Structure Plan, Soil Protection and Civil Protection.
He was and is a Member of national and international associations as follows:
AICA – Italian Association for Information Technology and Automatic Calculus;
ANIDIS – Italian National Association of Earthquake Engineering;
AGI – Italian Geotechnics Association;
EERI – Earthquake Engineering Research Institute– California;
SECED – The Society for Earthquake and Civil Engineering Dynamics – London;
SSA – Seismological Society of America – California;
Morgagni Medical Society – Washinton D.C., USA;
AAAS – American Association for the Advancement of Science – Washington D.C., USA;
New York Academy of Sciences – USA.
From 1988 to 1997, he was Member of the Managing Board of CUM (Community of the Mediterranean Universities).
In October 2001, he collaborated on drafting a document relative to the presentation of the World Housing Encyclopaedia (World Encyclopaedia of construction practises in seismic areas) for the XII European Meeting on Earthquake Engineering held in London in September 2002.
He participated in important national and international meetings of Earthquake Engineering.
He is author of over 200 articles published on scientific journals of national and international relevance and several books on Earthquake Engineering.